What happened in the Russia-Ukraine war this week? Catch up with the must-read news and analysis
6 min read
Every week we wrap up the must-reads from our coverage of the war in Ukraine, from news and features to analysis, visual guides and opinion.
Yevgeny Prigozhin and a fiery plane crash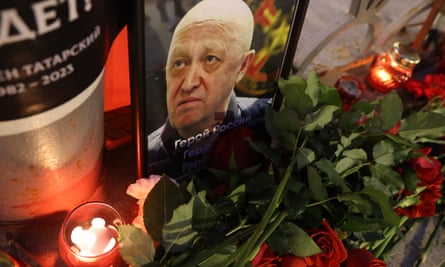 Yevgeny Prigozhin, the Wagner paramilitary chief who launched an armed mutiny in June, has been reported dead, with Joe Biden among many figures suspecting the involvement of Vladimir Putin. Russia said he was onboard a private jet that crashed in the Tver region near Moscow, killing all 10 onboard.
Putin said on Thursday the Wagner chief had made some made "some serious mistakes" and met with a "difficult fate", as speculation grew that his plane was brought down by a bomb after it took off from Moscow. US and western officials said it was likely that an intentional explosion had brought down the plane, which crashed into a field 185 miles (300km) north of of the Russian capital.
In an editorial, the Guardian wrote that, "Despite the viscerally shocking nature of images of a tumbling aircraft, and of the conflagration that followed, Yevgeny Prigozhin's reported death in a plane crash on Wednesday was one of the least surprising developments of the last 18 months. Ever since he led the mutiny by his Wagner group of mercenaries two months ago, Prigozhin's death was assumed by many to be imminent."
But is Prigozhin really dead? Not everyone is convinced, Andrew Roth writes. In 2019, Yevgeny Prigozhin was briefly reported to have died after an An-72 transport plane crashed in the Democratic Republic of the Congo. The embassy said two Russians had been onboard the plane, which was also carrying members of the DRC's presidential staff. The Wagner chief reappeared three days later, however, reports of his death having been greatly exaggerated.
Peter Beaumont compiled a visual guide to what we know about Prigozhin's alleged last flight. So what does the likely death of Prigozhin mean for the war in Ukraine? Dan Sabbagh takes a look.
Ukraine drone strike 'destroys Russian supersonic bomber'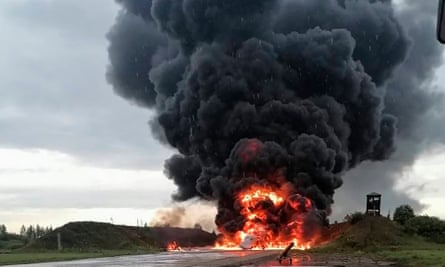 A drone appeared to have destroyed a supersonic Russian bomber on an airfield hundreds of kilometres from Ukraine, British military intelligence has said, the latest in a string of successful assaults on prestige infrastructure and military hardware.
These attacks, far beyond the frontlines, are powerful propaganda for Ukraine, though Kyiv rarely claims them directly. Hits on key assets, which are meant to be heavily guarded by the latest technology, is highly damaging to morale in Russia, even if they do not change the balance of forces on the battlefield.
The latest attack was "highly likely" to have destroyed a Tu-22M3 Backfire bomber jet at the Soltsy-2 airbase, 400 miles (650km) from the border with Ukraine, on 19 August, British military intelligence said in a regular update on the war.
Ukraine needs its people back –and more glass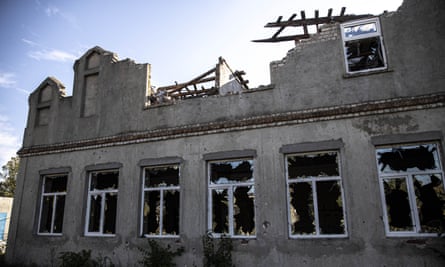 From the early days of the war, up until November last year when the Russian forces were pushed over to the other side of the Dnipro River, Shevchenkove and its surrounding hamlets in the southern Ukrainian region of Kherson were on the frontline.
There are 11,000 people in the region now but that is still 5,000 down from peacetime. In Shevchenkove, where the prewar population was 3,200, there are 2,200 residents today. This is not enough for Oleg Pylypenko, 37, the mayor, who was released in a prisoner swap. He wants everyone back. But the remaining stumbling block is clear: glass, or rather the lack of it, Daniel Boffey writes. It may be hot under the August sun but Ukrainian winters can be cruel and cold, with Russia likely to renew its attack on electricity supplies.
Netherlands and Denmark to donate up to 61 F-16 fighter jets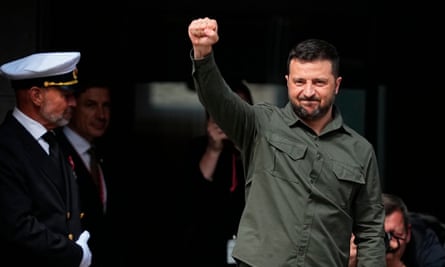 The United States will begin flight training for Ukrainian pilots on F-16 fighter jets in October, the Pentagon announced on Thursday. The training will begin after the pilots receive English-language training next month, a Pentagon spokesman Brig Gen Pat Ryder said. The flight training would take place at the Morris air national guard base in Tucson, Arizona, he added.
The Netherlands and Denmark also announced they will donate up to 61 F-16 fighter jets between them to Ukraine once pilot training has been satisfactorily completed, as Volodymyr Zelenskiy visited both countries after months of entreaties to bolster the Ukrainian air force.
Putin sets sights on re-election but cost of war can only grow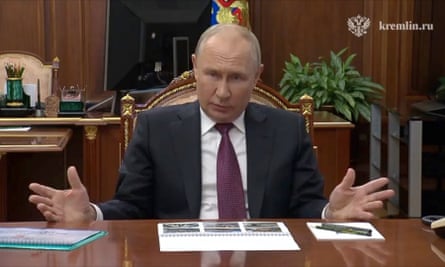 As the Kremlin took urgent measures to stabilise the plummeting rouble last week, one thing became clear: rampant spending on its war machine and social welfare programmes could not go on for ever. Few observers believe the Russian economy is in danger of imminent collapse. But it has reached a point, they say, where the Kremlin may have to weigh the cost of spending trillions of roubles on its war with Ukraine, and withstanding unprecedented sanctions, while maintaining prewar levels of public spending.
Putin is set to stand for re-election next year and the Kremlin typically lavishes money on the public before the vote to ensure an enthusiastic turnout for the fifth-term presidential hopeful. But insiders say the Kremlin believes that the population has largely resigned itself to a long war and international isolation.
"There's not going to be some economic catastrophe or [a decision] to stop the war," a former senior Russian official told Andrew Roth. "In democratic conditions, when the economy gets worse, people vote for a different government. This is not a democratic regime. It will easily survive this. People will just have to tighten their belts."
The families searching for Ukraine's missing soldiers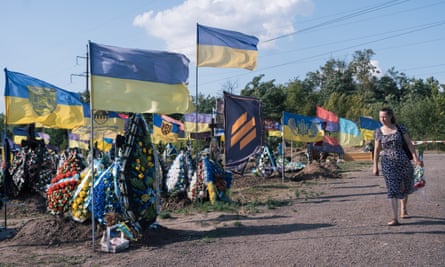 Treading carefully between the plots, Lidiya Sribna, 51, goes from grave to grave placing a red carnation on each of the mounds of soil.
Sometimes, on these visits to Krasnopillya military cemetery on the outskirts of Dnipro, in south-east Ukraine, she will balance sweets or biscuits on the black wooden crosses – a Ukrainian tradition – or give the small plaques a wipe and pick up any litter that has been scattered by the wind.
Her son, Kostyantyn, 31, is buried on the other side of the vast scrubland, reports Daniel Boffey in Dnipro, where those killed in 2022 can be found under the fluttering yellow-and-blue national flags and giant floral displays.
His pristine plot is full of orange and yellow marigolds, but Sribna, wearing her smartest black polka-dot dress, is one of a group of women who also tend to the simpler graves of those yet to be claimed – the "temporarily unknown defenders".
Russian women fear return of murderers who fought for Wagner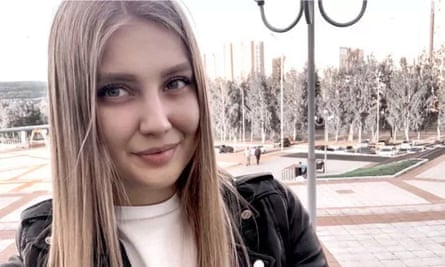 The 2020 murder of Vera Pekhteleva, by her ex-boyfriend, was so gruesome that even in Russia, where violence against women often goes under the radar, it caused a media outcry, Shaun Walker reported.
Vladislav Kanyus spent hours torturing Pekhteleva before she died; neighbours repeatedly called police to report horrifying screams coming from the neighbouring apartment, but the police did not show up. At trial, it emerged there had been 111 injuries on Pekhteleva's body.
Last summer, a court in Siberia sentenced Kanyus to 17 years in prison for the murder. Pekhteleva's family members were disappointed that the judge dismissed additional charges of rape and unlawful imprisonment, but breathed a sigh of relief that the murder charge alone would put Kanyus behind bars for 17 years.
Nine months later, in the middle of May, Pekhteleva's mother received two photographs from an anonymous account on WhatsApp. They showed a man in military fatigues and were accompanied by a message: "Kanyus is free, and fighting in Ukraine."